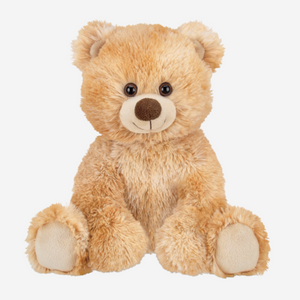 Kipper the Teddy Bear Soft Toy
Regular price £24.00 Sale
This adorable Lil' Kipper teddy bear has the design of a classic bear with the softness of modern plush. Measuring 11.5" tall from head to toe, 8.5" tall when sitting, Lil' Kipper is the perfect size for cuddling and is sure to become a treasured companion. Handcrafted using the most luxuriously soft plush, this bear is perfect for everyone from the collector to a special child in your life. Lil' Kipper teddy bear is from the award-winning Bearington Collection.
Classically cute 11.5" tall light brown plush toy stuffed animal teddy bear with soft variegated fur, surface washable.

Soft and scruffy light brown plush fur and floppy body with delicately soft stuffing make this teddy a cuddly companion.

This teddy's feet are weighted with child-safe inner bean bags making it poseable and extra huggable teddy bear.

Makes a perfect gift for boys, girls, and kids of all ages.