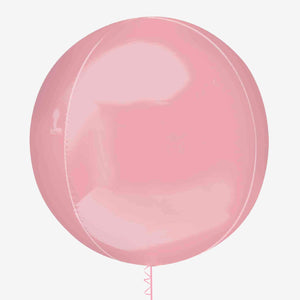 Pastel Pink Orbz Balloon
Regular price £6.99 Sale
 This balloon will look cute hanging at your party. Include our Pastel Pink  Orbz Balloon in your decor. This pastel pink colour is a perfect combination with our mint green, white, and pastel yellow.
With its perfectly spherical shape and outstanding design. This balloon is intended to be over-inflated to get the flawless beach ball shape. Perfect to hang on the wall and impress all the guests with its classic form and color. Very popular for a ceiling display or in bunches. Perfect for birthdays, weddings, and any other celebration. 
Make your surprises extra joyful by adding Mini Balloons, Birthday Banner, Badge, and some candles from our store. Surely, it's gonna be fun with these all packed together. Get all you need from our shop!
Size: 16"