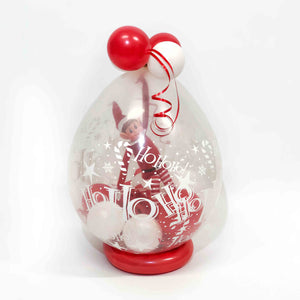 Elf Balloon Arrival Ho Ho Ho
Regular price £34.99 Sale
Are you ready for some Elf fun?? Make a Grand Entrance this Christmas with our Naughty Elf Balloon Arrival!! 
This design comprises of a Naughty Elf with mini decorative balloons inside of a latex balloon!

*Do you want to use your own elf? Send your Elf to us and we will add it to your chosen design.
**Elves must be sent in a ziplock bag with your name and order number. 
You can post it or drop it at our shop till the 26th November. 
In case that we don't receive your elf by the 26th November we will automatically add our own elf and send you an invoice for the price difference. The product will only be dispatched after payment has been cleared. 
***This design is available for delivery, collection and shipping.